National Museum of Slovenia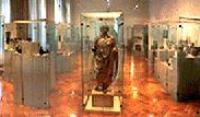 National Museum © National Museum of Slovenia
The impressive National Museum of Slovenia is housed in a lovely neo-Renaissance style palace, the most interesting and popular of Ljubljana's many museums. The permanent exhibition consists of archaeological material, displayed in chronological order, such as ancient Palaeolithic artefacts discovered in karst cave sites and even the only Egyptian mummy in Slovenia.
The National Museum is made up of three museums: the historic Presernova, the newer Metelkova, and the Natural History Museum. Visitors can explore just one or all three depending on their schedule, and combination tickets are available.
Address: Prešernova 20
Website: www.narmuz-lj.si
Telephone: (0)1 241 4400
Opening times: Daily 10am-6pm (closes 8pm on Thursdays). Closed January 1, May 1, November 1, and December 25.
Admission: Entry starts from €3 adults; concessions and combination tickets available. Free admission on the first Sunday of every month.