National Museum of Slovenia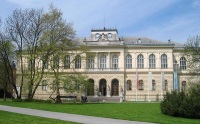 National Museum of Slovenia © Ziga
The impressive National Museum of Slovenia is housed in a lovely neo-Renaissance style palace, the most interesting and popular of Ljubljana's many museums. Alongside fascinating temporary exhibits, the permanent exhibition consists of various artworks and archaeological artefacts and displays, such as a 60,000-year-old Neanderthal flute, ancient Palaeolithic artefacts discovered in karst cave sites, and the only Egyptian mummy in Slovenia.
The National Museum is made up of three museums: the historic Presernova, the newer Metelkova, and the Natural History Museum. Visitors can explore just one or all three depending on their schedule, and combination tickets are available.
Address: Prešernova 20
Website: www.nms.si
Telephone: +386 (0)1 241 4400.
Opening times: Daily 10am-6pm (closes 8pm on Thursdays). Closed January 1, May 1, November 1, and December 25.
Admission: Entry starts from €6 for adults; concessions and combination tickets available. Free admission on the first Sunday of every month.