Banpo Village Remains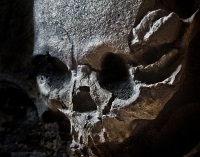 Banpo Village skull © Scott Swigart
On a 538 square foot (50,000 sq metre) site east of Xi'an city, on the bank of the Chanhe River, are the remains of the ancient settlement of Banpo, dating from about 5000BC. The remains were discovered in 1953 by workers laying the foundations for a factory, and constitute the most complete example of an agricultural Neolithic settlement in the world. The site contains the ruins of more than 40 homes, 200 cellars, numerous storage pots, a collection of pottery and tools, a pottery-making centre, and more than 250 graves belonging to a matriarchal community of the Yangshao culture. Apart from the adult burial tombs, and the burial urns used for children, digging in Banpo unearthed the remains of horses and pigs, giving some insight into the husbandry of animals during this period. There is an on-site museum, built in 1958, constructed over the excavation site with two smaller exhibition halls displaying the archaeological artefacts that have been unearthed at the site. More than 400 archeological sites comparable to this one have been discovered in and around the Yellow River Valley in China, giving the area the reputation of being the birthplace of ancient Chinese culture. Banpo is an essential visit for those interested in archeology and ancient history.
Website: www.banpomuseum.com.cn/
Telephone: (0)29 8351 2807
Transport: Bus 11 or 105
Opening times: Daily 8am-5pm.
Admission: CNY35 (March to November), CNY25 (December to February).