Birmingham Zoo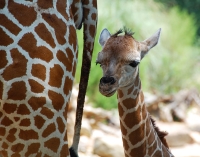 Baby giraffe at Birmingham Zoo © Ralph Daily
The Birmingham Zoo, Alabama's most popular non-profit attraction, houses approximately 900 wild animals from 230 species in the centre of Birmingham. Animals include elephants, lions, monkeys, bobcats, otters, zebras, tigers, hippos, giraffe and rhinos, among others. There is an interactive aviary, where parrots land on visitors' shoulders; a savannah safari exhibit; and a sea lion show. Picnic areas and a food and gift shop are available. Daily activities include the Red Diamond Express train rides, sea lion training demonstrations, and protective life carousel rides. The whole family will enjoy a trip to the Birmingham Zoo. Check the zoo's official website listed below for details.
Address: 2630 Cahaba Rd
Website: www.birminghamzoo.com
Telephone: (205) 879 0409
Opening times: Daily 9am-5pm
Admission: $17.95 adult, $12.95 children, other concessions available.