Talladega Superspeedway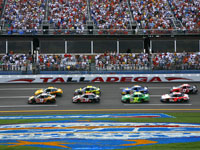 The South is the home of NASCAR, and about 30 minutes from Birmingham lies the legendary Talladega Superspeedway, one of the most competitive motorsports facilities in the world. More than 143,000 guests can be accommodated in the stands and thousands more in the 212-acre infield. The sheer volume of fans, let alone the record-breaking speed of the racers, makes a visit unforgettable. When no events are scheduled, tours are available daily. Adjacent to the track is the International Motorsports Hall of Fame and Museum, also open daily, which displays racing cars and memorabilia worth more than $15 million. A self-guided walking tour of the museum takes roughly an hour.
Address: 3366 Speedway Boulevard, Talladega
Website: www.talladegasuperspeedway.com
Telephone: (877) 462-3342
Opening times: Museum: Monday to Wednesday 9am-5pm, Thursday 7am-6pm, Friday 8am-7pm, Saturday 7am-8pm, Sunday 7am-2pm.
Admission: Hall of Fame and Museum: $12 adults, $5 children. Event prices vary.