Old State House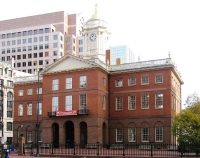 Old State House © Charles Bulfinch
The Old State House was built in 1796. It is one of the oldest state houses in the country and has been named a National Historic Landmark. Visitors can tour the magnificently restored rooms, listen to the audio tour and visit the education centre and museum shop. Celebrated as the site where Connecticut's democracy was born, the Old State House is an interesting monument to the state's proud history and contains some quirky and fun artefacts as well as more sombre, historic ones. The museum hosts frequent events and exhibitions and is open to the public year-round. A visit should entertain and educate the whole family.
Address: 206 Washington Street
E-mail: info@oldstatehouse.org
Website: www.ctosh.org
Telephone: (501) 324 9685
Opening times: Daily 9am-5pm
Admission: $10 adult, free for children.