Peabody Museum of Natural History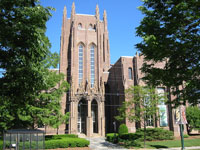 The Peabody Museum © Ragesoss
The stunning exhibitions of the Peabody Museum of Natural History are sure to amaze visitors of all ages. In addition to the Great Hall of Dinosaurs, visitors can discover Egyptian mummies, sabre-toothed cats and Native American artefacts. Although the museum has all the old-fashioned staples of a natural history museum, efforts have been made to keep it modern and entertaining for children and there are a number of interactive stations in the Peabody. Multiple youth programmes are held during the summer and there are some temporary exhibitions and special events at the museum. Check out the official website listed below for more information.
Website: www.yale.edu/peabody
Telephone: (203) 432 8987
Opening times: Tuesday to Saturday 10am-5pm; Sunday 12am-5pm. Closed Monday.
Admission: $13 adults, $6 children, other concessions are available