Residence of Princess Ljubica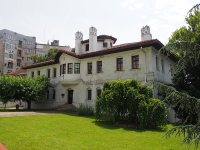 Residence of Princess Ljubica © Nikola Cvetkovic
One of few surviving buildings from the first reign of Prince Miloš Obrenović, the stately home of Princess Ljubica was built between 1829 and 1831 as a royal private residence. The building is a a prime example of the unique Balkan architectural style, incorporating some Baroque elements, and the interior has been preserved to showcase the luxurious lifestyle of Belgrade's wealthy in the 19th century. The residence of Princess Ljubica is an important icon of cultural heritage in the city, and is now part of the Belgrade City Museum.
Address: Kneza Sime Markoviæa 8
Telephone: +381 11 263 8264
Opening times: Tuesday, Wednesday, Friday 10am-5pm;Thursday 10am-6pm; Saturday 12pm-8pm; Sunday 10am-2pm; closed on Monday.