Residence of Princess Ljubica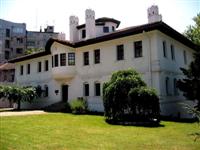 Residence of Princess Ljubica ©
Built between 1829 and 1831 as a private residence for the wife of Prince Milos, the stately home of Princess Ljubica is now the Belgrade City Museum, demonstrating the unique Balkan architectural style and incorporating some Baroque elements. The interior has been preserved to showcase the lifestyle of well to do Belgrade homes in the 19th century and is an important cultural heritage icon in the city.
Address: Kneza Sime Markoviæa 8
Telephone: +381 (0)11 263 8264
Opening times: Tuesday, Wednesday, Friday and Saturday 10am-5pm; Thursday 12pm-8pm; Sunday 10am-2pm.