Basque Museum and Cultural Center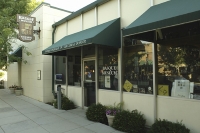 Basque Museum and Cultural Center © Mark Goebel
In the 1830s a flood of immigrants from the Basque Country (Spain and France) arrived in the United States, Idaho being one of the five US states with notable Basque heritage. The mission of the Basque Museum and Cultural Center is to preserve the Basque history and culture through education, research, collections, and activities. The museum provides a look into traditional Basque heritage as well as the lives of Basque-Americans since settlement in the US through their collections of books, manuscripts, photographs, and unique oral history archives. The museum's calendar is filled with many interesting events, and visitors may get the chance to see colourful dancing, taste delicious food, and shop at the market.
Address: 611 Grove Street
Website: www.basquemuseum.com
Telephone: (208) 343 2671
Opening times: Tuesday-Friday 10am-4pm, Saturday 11am-3pm, closed Sunday and Monday.