Great Mosque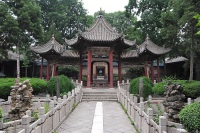 Great Mosque © Chensiyuan
The Great Mosque is the pride of China's Islamic community, which numbers roughly 60,000 in Xi'an city, and is a popular tourist attraction. The mosque is near the Drum Tower in the Muslim residential area. Islam came to China along with Arab merchants and travellers in roughly the year 600. The Great Mosque in Xi'an is the best-preserved ancient mosque in China, having been built in 742 during the Tang Dynasty. It is built in traditional Chinese style with platforms, pavilions and halls, and is rectangular in shape, divided inside into four courtyards. Visitors can explore the passages, courtyards and archways and admire the furniture and fittings, most of which date from the Ming and Qing Dynasties. The main prayer hall can accommodate 1,000 and its ceiling bears more than 600 classical scriptures in colourful relief. The Great Mosque is a rewarding travellers destination, particularly because the mix of Islamic and Chinese architecture and design is interesting and unique. It is surrounded by landscaped gardens which make for a quiet sanctuary and are worth strolling around. It is a place of worship though, so visitors should dress appropriately and behave respectfully.
Address: 30 Huajue Alley, Xincheng District
Telephone: (0)29 8721 9807
Opening times: Open daily 8am-7:30pm. Non-Muslims are not allowed entry during times of prayer or into the main prayer hall.
Admission: CNY25 March to November; CNY15 December to February.