Silk Exchange (Lonja de la Seda)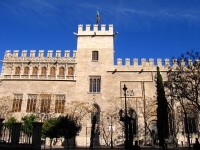 Lonja de la Seda © Felivet
One of Valencia's UNESCO World Heritage Sites is the old Silk Exchange, founded in 1469, copied from a similar structure built in Palma de Mallorca. The walled tower and flamboyant Gothic trading hall, once used for the trade of precious items like silk and gold, is widely regarded as the city's most beautiful building, and is now a top tourist attraction, often used for hosting art exhibitions. The immensely high vaulted ceiling tops some unusual and very attractive pillars, the floors are lovely, and there is lots of intricate stonework and Gothic detail to admire. There isn't much information of any kind inside, but informative guided tours are available in multiple languages for a small extra fee. A good time to visit is on a Sunday morning, when a popular stamp and coin collectors market makes for a lively trading buzz. The Silk Exchange is located opposite Valencia's Central Market, which some visitors may also want to investigate.
Address: Plaza del Mercado.
Telephone: +34 96 352 5478
Opening times: Tuesday to Saturday from 9am to 2pm and 4.30pm to 8.30pm; Sundays and public holidays from 10am to 3pm
Admission: €2 (general); €1 (reduced). Admission is free on Saturdays, Sundays and public holidays.