Crypt of Saint Vicente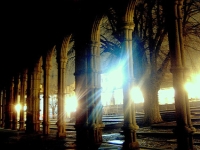 Church of Saint Vincente © CRLS
The Crypt of San Vicente is an ancient part of Valencia and exploring the space takes visitors on an intriguing archaeological journey through the history of the city. The crypt has existed in many different incarnations: it was once part of a Visigoth chapel; was converted into palace baths during Muslim rule; and was incorporated into a Christian chapel dedicated to the martyr San Vicente (although it is unclear whether the saint was ever actually imprisoned here as some historians claim). There is even evidence of Roman architecture in the crypt, which is located in a district once occupied by Roman nobles. It is possible to wander in and see the ruins, but without explanation it is not that interesting. History lovers are encouraged to book the audiovisual tour with images projected on the walls and a voice over detailing every different era in the building's past. Tours should be booked at the City Museum opposite the crypt.
Address: Plaza del Arzobispo
Telephone: +34 96 394 1417
Opening times: Open Tuesday to Saturday from 9.30am to 2pm and 5.30pm to 8pm, Sunday from 9.30am to 2pm. Closed on Mondays.
Admission: €2 (free on weekends and public holidays).