Indianapolis Motor Speedway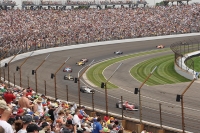 Indianapolis Motor Speedway © momentcaptured1
The Indianapolis 500 takes place each May, but the iconic Speedway remains an exciting attraction all year round. In addition to hosting other racing events, including motorcycle racing, it is the home of the Indianapolis Motor Speedway Hall of Fame Museum, which has a huge collection of memorabilia and racing, classic and antique cars, as well as Brickyard Crossing, a Pete Dye-designed golf course with four holes inside the raceway oval. Visitors can explore the museum, or join a tour of the entire grounds. Buses offer the chance to take a lap on the track, and the Indy Racing Experience allows people to experience the track as a passenger in a real Indy racing car.
Address: 4790 W. 16th Street
Website: www.indianapolismotorspeedway.com
Telephone: (317) 492-6784
Opening times: 9am-5pm March-October, 10am-4pm November-February
Admission: Museum $10 adults, $5 children.