Eiteljorg Museum of American Indians and Western Art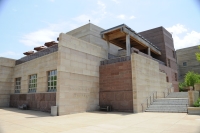 Eiteljorg Museum © Serge Melki
The only museum of its kind in the Midwest, the Eiteljorg Museum contains one of the best Native American and Western art collections in the world. Designed to encourage appreciation and understanding of the cultures of the indigenous peoples of North America, the museum showcases work by contemporary artists like N.C. Wyeth and Georgia O'Keeffe. It also displays art and artefacts including pottery, woodcarvings and apparel, of the Delaware, Miami, Potawatomi and many other Native American cultures. A great attraction for families visiting Indianapolis, the museum also has a number of interactive exhibits children will love, including a stagecoach, totem pole, and wigwam. In addition, a number of events are hosted throughout the year, including storytelling on Saturdays, outdoor markets and concerts, and social dances.
Address: 500 W. Washington St, White River State Park
Website: www.eiteljorg.org
Telephone: (317) 636 9378
Opening times: Monday-Saturday 10am-5pm, Sunday 12pm-5pm
Admission: $15 adults, $8 children, other concessions available.