Potala Palace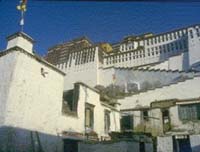 The vast Potala Palace stands on a cliff top above Lhasa, considered the greatest achievement of Tibetan architecture. The palace was originally built in the 7th century by the then emperor for his bride. It was later partially destroyed by lightning, and war, but restored and extended in 1645 by the Fifth Dalai Lama when he became political and religious leader of Tibet. The Fifth Dalai Lama took up residence in the palace in 1653, and it remained the Dalai Lamas' official residence until the exile of the 14th Dalai Lama in 1959. The palace is renowned for its interior splendour. It consists of two main sections: The White Palace is the secular section containing offices, dormitories, a Buddhist seminary and printing house; The Red Palace is the sacred sanctuary dedicated to religious study and Buddhist prayer. The Red Palace contains chapels where the mummified remains of three Dalai Lamas lie, and the Great West Hall famous for its rich murals. The only remaining structures dating from the 7th century are the Dharma Cave and the Saint's Chapel but the palace houses many ancient cultural treasures and relics. In fact, the palace contains over 10,000 shrines and 200,000 statues.
Address: Moburi (Red) Mountain, Lhasa
Opening times: Daily 9:30am to 1pm, and 3pm to 6pm.
Admission: RMB 100