Taipei 101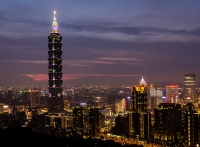 Taipei 101 © sese_87
The Guinness Book of Records certified Taipei's grandiose financial centre, known as Taipei 101, as the world's tallest building until 2009, when it was superseded by the Burj Khalifa in Dubai. However, at more than 1671 feet (509m) high, and designed to resemble a towering pagoda, this building will likely remain not only the city's major landmark, but also an awesome tourist attraction for generations to come. A trip up and down in one of the super-fast lifts takes only minutes, and the view from the top observation deck is predictably spectacular. The lower levels are crammed with shops and restaurants.
Address: 3/F 45 Shi Fu Road
Website: www.taipei-101.com.tw/index_en.htm
Transport: Taipei 101 is connected to other Hsin-Yi Master Planned Area buildings by pedestrian skyways. Shuttle buses run to and from the City Hall's MRT station.
Opening times: Daily from 10am to 10pm (last entry at 9.15pm)
Admission: NT$400 (adults), NT$370 (children under 110cm tall). Group concessions available