Durham Cathedral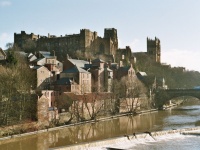 Celebrated, together with Durham Castle, as one of Britain's first UNESCO World Heritage Sites, Durham Cathedral is one of the finest examples of Norman architecture in England. An icon of northeast England, the Cathedral was voted as the nation's best-loved building in a nationwide BBC poll held in 2001. Renowned for its immense architecture, ancient history and deep religious roots, the Cathedral is a must-see attraction for any visitor to Durham. Guided tours are conducted daily, and offer an informative and enriching way of visiting the magnificent structure.
Address: Palace Green
E-mail: visits@durhamcathedral.co.uk
Website: www.durhamcathedral.co.uk
Telephone: (0)191 386 4266
Opening times: The Cathedral is open daily. For guided tours, contact the Cathedral (by email) and arrange a booking. Tours are usually run twice a day, at 11am and 2pm.
Admission: Entry is free, although donations are requested. Tours cost £4 for adults, and are free for under 16s so long as they are accompanied by an adult.