Durham Castle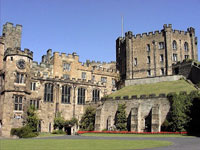 Few buildings in the world can claim to have been in constant use for more than 900 years, but the UNESCO World Heritage Site of Durham Castle is one of them. It was originally built in the 11th century (opposite Durham Cathedral), to protect the Bishop from 'barbaric' northern tribes in the wake of the Norman Conquest of 1066. Over the centuries the core of the ancient castle remained intact, but there have been numerous renovations and extensions. The castle's aspect today is imposing. The Great Hall is one of the largest in Britain, created by Bishop Antony Bek in the 14th century. Since 1840, when the Bishop moved elsewhere, it has housed a college of Durham University. Visitors are welcome on guided tours, lasting about 45 minutes.
Address: Palace Green
Website: www.durhamcastle.com
Telephone: (0)191 374 3800
Opening times: During term time at Durham University, tours are available on weekday afternoons at 2pm, 3pm and 4pm. During vacation time, tours are available on weekday mornings at 10am, 11am and 12pm, as well as on afternoons when there are no events or functions being hosted in the Castle.
Admission: £5 (adults), £3.50 (students, seniors, children under 16). Family passes are available for £12