Museum of Anatolian Civilizations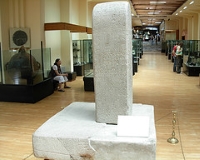 Anatolian Museum of Civilization © J Brew
The museum which charts the history of Asia Minor is housed in a lovely 15th-century restored building close to the centre of Ankara. Originally a market and caravanserai close to the centre of Ankara, it's the ideal place to visit for anyone intending to travel through Turkey and delve into the past. It is filled with fascinating collections of archaeological finds, from monolithic statues to delicate jewellery, including some from Catal Huyuk, believed to be the earliest known human social community in the world. From the Palaeolithic and Neolithic, and through all the great civilizations since, this museum is like a time machine for ancient history buffs.
Address: Kale Mh., Gözcü Sk. No:2, Ulus/AltındaÄŸ/Ankara, Turkey.
E-mail: anmedmuz@gmail.com
Website: www.anadolumedeniyetlerimuzesi.gov.tr
Telephone: +90 312 324 31 60
Opening times: Daily from 8.30am to 4pm.