Temple of Augustus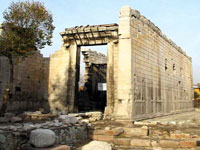 Temple of Augustus © Ori~
The Roman Temple of Augustus was built by the Romans in the 2nd century AD, and contains the best-preserved copy of Emperor Augustus' last will and testament, inscribed on the vestibule walls. After the death of Augustus in 14 AD, a copy of the text of the Res Gestae Divi Augusti was inscribed in Latin on both walls inside the pronaos, with a Greek translation on an exterior wall of the cella. The inscriptions are the primary surviving source of the text, since the original inscription on bronze pillars in front of the Mausoleum of Augustus in Rome has long been lost, and two other surviving inscriptions of the text are incomplete. The temple itself is in ruins and not open to the public, but together with other Roman ruins in the vicinity (including the Roman baths and the column of Julian) it is an exciting port of call for classical history addicts.
Address: Hacı Bayram Mahallesi, Altındağ/Ankara, Turkey.
Opening times: Daily, 6am-11pm.