Omaha Zoo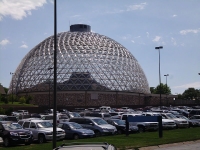 Desert Dome at Omaha Zoo © Dual Freq
In carrying out its mission of conservation, the Omaha Zoo has created Lied Jungle, America's largest indoor rainforest. Visitors can also explore the Scott Aquarium, Desert Dome, Cat Complex, Hubbard Gorilla Valley, and Orangutan Forest. The zoo also offers train and tram rides, the TreeTops Restaurant overlooking the rainforest and a variety of other fun activities, attractions, and refreshment options. For those who don't want to visit the restaurants, there are lovely picnic areas at the zoo, and plenty of snack kiosks.
Omaha's Henry Doorly Zoo & Aquarium is widely acknowledged as being one of the best in the USA and should delight visitors of all ages. The zoo can easily fill a whole day with family entertainment if explored thoroughly.
Address: 3701 South 10th Street
Website: www.omahazoo.com
Telephone: (402) 733 8401
Opening times: March to October 9am-5pm daily. November to February 10am-4pm.
Admission: Varies according to season.