Strategic Air and Space Museum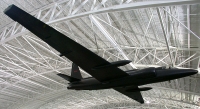 Strategic Air and Space Museum © unbekannt
The Strategic Air and Space Museum in Omaha, regarded as the nation's foremost facility of its kind, showcases World War II and Cold War era aircraft and artefacts to illustrate the historical role of strategic air command in securing peace. The museum's exhibits, multimedia displays and educational programmes are also forward-looking, generating excitement among the next generation about the future of aviation, aerospace and engineering. The whole family should enjoy a visit to this interesting attraction, which is both educational and entertaining. Many special events and exhibitions are also hosted by the museum so check the official website for information on what is showing during your visit.
Website: www.sacmuseum.org
Opening times: Open daily 9am-5pm.
Admission: Adults $12, Children, $6, other concessions available.