Bemis Center for Contemporary Arts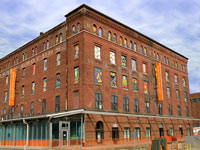 The Bemis Center for Contemporary Arts, just south of the Old Market district, was founded on the principle that exceptional talent deserves to be supported. Artists from around the world apply to participate in the centre's residency program, in which they are given studios and accommodation, freeing them to focus on creative growth and experimentation. The centre presents over 20 exhibitions annually in its three main galleries, featuring emerging and established artists and spanning all visual media.
Address: 724 South 12th Street
Website: www.bemiscenter.org
Telephone: (402) 341 7130
Opening times: Tuesday to Saturday 11am-5pm.
Admission: Free