Palais des Beaux-Arts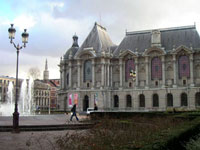 A striking and ornate 19th-century building which houses Lille's renowned museum of fine arts, Palais des Beaux-Arts is a masterpiece in itself. Inside the building is a treasure trove for art lovers, a cultural attraction second only to the Louvre in Paris. The gallery features works by Goya, Donatello, Raphael and Rubens, to name just a few of the masters represented. There are also a number of works by French artists, including three major items: Belisarius Asking for Alms by David; After Dinner at Ornans by Courbet; and Sleep by Puvis de Chavannes. Although the museum contains mainly paintings, there are also some collections of ceramics, relief maps and a large section of Italian and French drawings. The museum aims to be inter-disciplinary and therefore includes literature, theatre, music, dance and cinema in its exhibitions and organises events to celebrate all these art forms. Many visitors complain that although the museum is astounding and well worth a visit it is a little hard to find; arm yourself with a good tourist map and you shouldn't struggle.
Address: Place de la République
Website: www.pba-lille.fr
Telephone: (0)3 2006 7800
Transport: Metro to République station
Opening times: Monday 2pm to 6pm; Wednesday to Sunday 10am to 6pm. Closed Tuesdays.
Admission: €5.50 (adults), €3.80 (concessions). Free on the first Sunday of each month.