Open Air Museum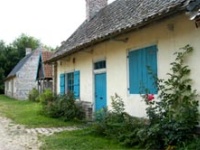 Travel back in time with a visit to Lille's living museum, which is a recreation of a local village in days of yore. The Lille Open Air Museum site covers 10 hectares, an attraction where visitors can explore thatched cottages, traditional farmhouses, orchards and seed barns and gain some understanding of how people lived centuries ago. There are rural craft workshops on offer at the museum where artisans demonstrate traditional skills and teach visitors to do a variety of things. There are even live animals running around. The Open Air Museum is a fun outdoor attraction for the whole family and the experience is pleasantly hands-on and authentic. Most of the buildings were once in use and would have fallen into ruin or been destroyed if the museum hadn't been conceived. It is not a grand or glitzy attraction but if the thought of rambling through an old French farm and village appeals to you then you'll enjoy this rather original museum.
Address: 143 Rue Colbert, Villeneuve d'Ascq
E-mail: museedepleinair@enm-lille.fr
Telephone: (0)3 20 05 59 41
Opening times: Wednesday to Sunday 11am to 7pm (May to October) and 10am to 6pm (November to April)
Admission: €5; concessions available. Free with the Lille City Pass.