Hospice Comtesse Museum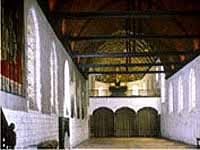 In the heart of Lille's old town stands one of the few remaining Flanders buildings founded as a hospital in 1237 by the Countess of Flanders, Jeanne de Constantinople. It remained in service as a hospital until 1939, and today has been turned into an art museum. Works are displayed in the old hospital ward and dormitories, with their barrel-vaulted ceilings, and other halls where the community of Augustine nuns once lived and worked, providing a haven for the sick. Visitors can see the old kitchens, laundry, pharmacy, refectory and Prioresses' apartment, as well as the old chapel. The collections on display include paintings, tapestries, sculptures and porcelain from the region. The museum furnishings are mostly from the 17th century. Although some of the art in the collection is wonderful, the true fascination of the place is in imagining how life in the hospice used to be. Outside there is a delightful medicinal garden. There is a free guidebook and a great audio guide which is very informative and enriches the experience by providing history and context. The toilet is a little hard to find: it is located off the kitchen.
Address: 32 Rue de la Monnaie
Telephone: (0)3 2836 8400
Transport: Bus 3, 6 or 9, or Metro to Lion d'Or
Opening times: Monday 2pm to 6pm, Wednesday to Sunday 10am-12:30pm and 2pm-6pm. Closed Tuesdays.
Admission: €3,50 adults; €2,50 (12 to 26 year olds); concessions available.