Myriad Botanical Gardens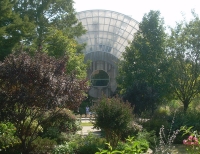 Myriad Botanical Gardens © Caleb Long
The Myriad Botanical Gardens are a 17-acre paradise right in the centre of downtown Oklahoma City. In addition to flourishing plant life, rolling hills, walkways, sculptures and a sunken lake, the gardens feature the seven-storey, circular Crystal Bridge Tropical Conservatory, an architectural wonder that is home to exotic flora as well as lizards, parrots, butterflies and fish. Visitors can take a path that leads under the conservatory's 35-foot (11m) waterfall and enjoy a picnic on the grassy lawns, or indulge in dinner at the sleek Park House restaurant.
Address: 301 W. Reno
Website: www.myriadgardens.com
Telephone: (405) 297-3995
Opening times: Crystal Bridge Tropical Conservatory: Monday to Saturday 9am-5pm, Sunday 11pm-5pm. Park grounds daily 6am-11pm.
Admission: Crystal Bridge Tropical Conservatory: $8 adults; $5 children 4-12. Other concessions available. Park entry is free.