Oklahoma City National Memorial and Museum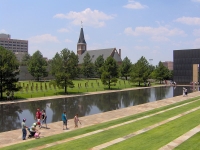 Oklahoma City National Memorial © Nyttend
On the morning of 19 April 1995, Timothy McVeigh killed 168 people when he bombed the Alfred P. Murrah Federal Building. Where the building once stood stands the Oklahoma City National Memorial & Museum, honouring the victims, survivors, and rescue workers of the Oklahoma City Bombing.
The outdoor memorial features symbolic elements including a reflecting pool and a field of empty chairs. It is designed as a haven for those seeking comfort and serenity. The museum chronicles the terrorist attack and aims to teach others about the impact and senselessness of violence.
Address: 620 N. Harvey Ave
Website: www.oklahomacitynationalmemorial.org
Telephone: (405) 235 3313
Opening times: Outdoor memorial is open 24 hours a day. Museum: Monday to Saturday 9am-6pm, Sunday 12pm-6pm.
Admission: Outdoor memorial is free. Museum: $15 adults; $12 children 6-17. Other concessions available.