National Cowboy and Western Heritage Museum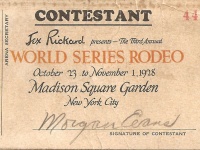 Cowboy Morgan Evans' World Series Rodeo © Dr. B. R. Lang
The mission of the National Cowboy and Western Heritage Museum is to preserve and interpret the heritage of the American West. Exhibits include works by the finest contemporary Western artists, as well as by Western masters like Charles Russell.
The 200,000 square foot (60,960 square meter) complex houses multiple galleries, including cowboy, firearms, and Native American galleries, the Prosperity Junction cattle town replica, the interactive Children's Cowboy Corral, and the Western prairie-themed Persimmon Hill Restaurant.
Address: 1700 NE 63rd Street
Website: www.nationalcowboymuseum.org
Telephone: (405) 478 2250
Opening times: Daily 10am-5pm.
Admission: $12.50 adults, $5.75 children 4-12. Other concessions available.