Oklahoma City Zoo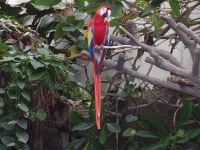 Scarlet Macaw at Oklahoma City Zoo © Janice Waltzer
The Oklahoma City Zoological Park has been recognised as one of the top ten zoos in the United States. It is both a living museum and a botanical garden. Exhibits include Aquaticus, showcasing marine life from around the globe; Cat Forest and Lion Overlook; Great EscAPE, featuring gorillas, orangutans and chimpanzees; Island Life, with animals that live on islands from the Caribbean to Madagascar; and a butterfly garden.
Guests can enjoy a food court, a tram, a rock-climbing wall and paddleboats. The zoo is dedicated to conservation and to providing the community with exemplary opportunities for recreation and education.
Address: 2101 NE 50th Street
Website: www.okczoo.com
Telephone: (405) 424-3344
Opening times: Daily 9am-5pm, exhibits open until 8pm (May through August).
Admission: $8 adults, $5 children 3-11. Certain attractions involve additional fees.