Oklahoma City Zoo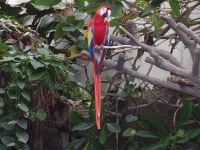 Scarlet Macaw at Oklahoma City Zoo © Janice Waltzer
Recognised as one of the top ten zoos in the United States, the Oklahoma City Zoological Park is both a living museum and a botanical garden. Exhibits showcase marine life from around the globe, forest habitats of big cats and bears, and gorilla, orangutan, and chimpanzee enclosures.
There are also displays that illustrate island life, showing off animals that live on islands from the Caribbean to Madagascar. Guests can enjoy a food court, a tram, a rock climbing wall, and paddleboats. The zoo dedicates itself to conservation and providing education to the community.
Address: 2101 NE 50th Street
Website: www.okczoo.com
Telephone: (405) 424 3344
Opening times: Daily 9am-5pm, exhibits open until 8pm (May through August).
Admission: $11 adults, $8 children 3-11. Certain attractions involve additional fees.