Stockyards City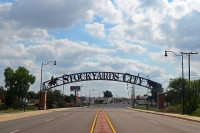 Fort Worth Stockyards © Lyndi & Jason
Visitors to the world's largest stocker/feeder cattle market can watch real Oklahoma cowboys work the livestock or attend a live cattle auction. Stockyards City's Cowtown is home to more than 70 businesses specialising in Western wear, farm and ranch needs, dining, and entertainment. Guided tour buses can be arranged.
Address: 1305 S. Agnew Ave
Website: www.stockyardscity.org
Telephone: (405) 235 7267
Opening times: Cattle auctions held every Monday and Tuesday at 9am.