Deadwood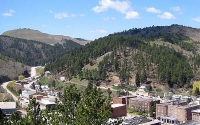 Deadwood © Gorilla Jones
Deadwood in South Dakota grew into a mythical Wild West town in the 1800s when gold was discovered in the Black Hills. It quickly became home to a colourful cast of prospectors, gunslingers, and gamblers.
Brick streets, frontier architecture, and turn-of-the-century streetlamps are restored, with the entire town designated a National Historic Landmark. Visitors can relax in a historic hotel near Main Street, have a drink at the local saloon, or try their luck in one of the historic gambling halls.
They can pan for gold at the Broken Boot Mine or climb to the Mount Moriah Cemetery to visit the graves of notorious Old West legends like Wild Bill Hickok and Calamity Jane. From the cemetery, there is a breathtaking view of the surrounding hills.
There are several historical museums in town, including the Adams Museum and the Days of '76 Museum. Deadwood's notorious reputation inspired the hit television series Deadwood, which takes place during the town's early rough and tumble days.
Website: www.deadwood.com/