Museum of Edinburgh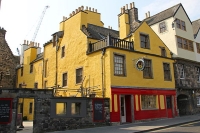 Edinburgh Museum © Stefan Schafer
Get to grips with the mystery and magic of the ancient city of Edinburgh at the museum dedicated to its history, from prehistoric times to the present day. The Museum of Edinburgh contains important collections relevant to the city's history, from pottery to documents, shop signs to silverware. The building in which the museum is housed is also of interest, dating from the 16th century, it has a chequered history of ownership and tenancy by a variety of people from aristocrats to common workers. There is a gift shop on the ground floor, and although there is no food or drink allowed, there are a number of great pubs and restaurants nearby.
If you enjoy the Museum of Edinburgh, and have a fascination for the history of this old and atmospheric city, another attraction worth visiting is The People's Story Museum. The museum has an emphasis on the personal, exploring the lives of ordinary people in Edinburgh from the late 18th century to the present. The exhibitions immerse visitors in the everyday home and work lives of Edinburgh's population using personal possessions, newspapers and the recreation of a number of rooms and offices to illustrate the changes over the decades. Like the Museum of Edinburgh, the People's Story Museum is free.
Address: Museum of Edinburgh: 142 Canongate, Royal Mile. People's Story Museum: 163 Canongate, Royal Mile.
E-mail: MuseumsAndGalleries@edinburgh.gov.uk
Website: www.edinburghmuseums.org.uk/Venues/Museum-of-Edinburgh
Telephone: (0)131 529 4143
Opening times: Open Monday, Thursday, Friday and Saturday from 10am to 5pm, Sunday 12pm to 5pm
Admission: Free, though donations are welcome