Scotch Whisky Experience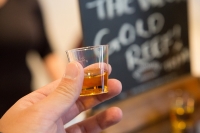 A shot of the best © Norio Nakayama
Alongside Edinburgh Castle, visitors can enjoy a 'wee dram' and uncover the secrets of brewing Scotland's famed malt, grain and blended whiskies, known to the locals as 'the water of life'. The whisky tour includes a barrel ride through the history of whisky, a tutored tasting, and a chance to meet a resident ghost. The bar offers the chance to choose from about 270 different whiskies, and a restaurant serves up traditional Scots cuisine. The interactive tour promises fun for all the family, although of course only adults are permitted to sample the wares. There are several different tours on offer: The Silver Tour, ideal for families and the uninitiated; The Gold Tour, offering a more in-depth experience; The Platinum Tour, ideal for the confirmed whisky lover; The Taste of Scotland, a mixture of whisky tasting and Scottish food; and The Morning Masterclass, perfect for connoisseurs. Although booking is not required it is recommended that visitors book in advance to ensure they have a place on the tours; for the Morning Masterclass pre-booking is essential. The guides are experts in their trade and do a fabulous job of educating visitors and keeping them entertained.
Address: 555 Castlehill, Royal Mile
Website: www.whisky-heritage.co.uk
Telephone: (0)131 220 0441
Transport: Edinburgh Tour buses stop right at the bottom of Castlehill, and Waverley train station is located 5 minutes by foot from the Scotch Whisky Experience
Opening times: Various tours are available, please check the website for details. Generally, tours operate every day from 10am to 6pm.
Admission: Various tours are available, please check the website for details. Silver Tours cost £13 (adults), and £6.75 (children 5-17)