Miller Brewing Company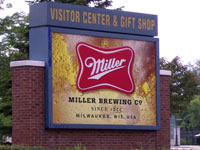 Miller Brewery © Greater Milwaukee Convention & Visitors Bureau
The Miller Brewery, established in 1855, is a landmark in Milwaukee, and visitors can participate in a free, entertaining, one-hour guided tour of the brewhouse, packaging centre and historic caves on the premises. Tours conclude with samples either at the old Miller Inn or in the beer garden (seasonal).
Address: 4000 W. State Street
Website: www.millerbrewing.com
Telephone: (414) 931 2337 or (414) 944 5483
Opening times: Monday to Friday 10am-6pm (closes 5pm in winter), Saturday 10am-6:30pm (5:30pm in winter). Tour times vary.
Admission: Free