Mitchell Park Horticultural Conservatory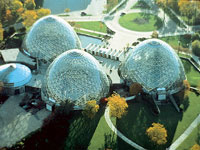 Mitchell Park Domes © Greater Milwaukee Convention & Visitors Bureau
The Mitchell Park Horticultural Conservatory is commonly referred to as 'the Domes', due to its memorable architecture. Its three giant glass vault-like structures are bursting with diverse plant life. Visitors can explore a different habitat - arid, tropical or floral - in each dome.
Address: 524 S. Layton Blvd
Website: county.milwaukee.gov/MitchellParkConserva10116.htm
Telephone: (414) 649-9800
Opening times: Monday to Friday 9am-5pm, Saturday and Sunday 9am-4pm.
Admission: $7 adults, $5 children 6–17. Concessions available.