Miller Park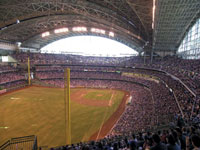 Miller Park © Greater Milwaukee Convention & Visitors Bureau
Miller Park is the home of major league baseball's Milwaukee Brewers. Opened in 2001, the ballpark combines state-of-the-art features, including a unique fan-shaped convertible roof, with the 'Take Me Out to the Ballgame' nostalgia of America's pastime.
Ballpark tours are available, but if visitors are able to get tickets, there is perhaps no better way to experience the best of America than by watching a ballgame with popcorn and a hot dog on a warm summer evening.
Address: 1 Brewers Way
Website: milwaukee.brewers.mlb.com
Telephone: (414) 902 4000
Opening times: Tours take place through October. Tour and game times vary. On non-game days, tours generally begin at 10:30am, 12pm, 1:30pm and 3pm
Admission: Tours: $10 adults, $6 children 3–14. Game tickets cost between $8 and $80, depending on section and game.