Lambeau Field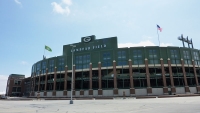 Lambeau Field © JL1Row
Home of the Green Bay Packers football team, Lambeau Field is a landmark among America's football stadiums. When it underwent extensive renovations a few years ago, fans pleaded for the preservation of its trademark features.
Today, its retro style and original seating bowl balance modern facilities and services, despite the disadvantages of an outdoor stadium in Wisconsin's notoriously cold winters. If visitors can get tickets and stand the cold, watching the Packers play at home is an amazing experience.
If not, a tour of the stadium, where some of the greatest legends in football have played, is the next best thing. When attending a football game at Lambeau Field, visitors should arrive early for a barbecue and join the tailgate party in the parking lot.
Address: 1265 Lombardi Ave, Green Bay
Website: www.lambeaufield.com