Lacrosse Museum and National Hall of Fame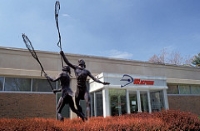 Lacrosse Museum and National Hall of Fame © Mark Goebel
The unique sport of lacrosse is played extensively in the eastern United States by more than 400,000 people, and nowhere is it more wildly popular than in Maryland, where 'LAX' stickers are to be seen on multitudes of fancy cars alongside decals for posh private schools, in accordance with the sport's elite reputation. The origins of lacrosse lie within multiple Native American tribes, for whom the game had great significance in both performing religious rites and preparing men for war.
The Lacrosse Museum and National Hall of Fame showcases the history of America's oldest sport as well as today's top male and female players, coaches and contributors.
Please note that as of September 2016 the Lacrosse Museum and National Hall of Fame has re-located to a new location in Sparks, Maryland.
Address: 2 Loveton Circle, Sparks
Website: www.uslacrosse.org/about-us-lacrosse/museum.aspx
Telephone: (410) 235-6882
Opening times: Monday to Friday 9am-5pm
Admission: Free