Baltimore Museum of Art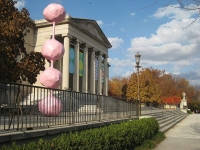 Baltimore Museum of Art © Iracaz
Founded in 1914 with a single painting, the Baltimore Museum of Art sits in the leafy neighbourhood of Charles Village. Today, the BMA is home to an internationally renowned collection of European and American fine and decorative art pieces.
These range from 15th- through to 19th-century prints and drawings, works by established and emerging contemporary artists as well as objects from Asia, Africa and the Pacific Islands. Its 90,000 works include the world's largest holidng of pieces by Henri Matisse.
Two beautifully landscaped gardens surround a grand museum building, designed by famous American architect John Russell Pope. Yoga classes and jazz concerts often take place upon the lawns in the early evening. Visitors can sample signature Chesapeake Bay cuisine on the lovely outdoor terrace of Gertrude's, the BMA's restaurant.
Address: 10 Art Museum Drive, at North Charles and 31st Streets
Website: www.artbma.org
Telephone: (443) 573 1700
Opening times: Wednesday to Friday 10am-5pm; Saturday and Sunday 11am-6pm. Closed Monday and Tuesday.
Admission: Free, although some special ticketed exhibitions may require admission fees.