Arenal Volcano National Park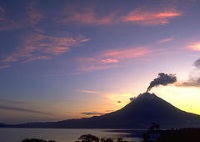 Arenal Morning © Kevin Creighton
The Arenal Volcano National Park is situated in what is known as 'the Energetic Heart of Costa Rica'. At its centre is the 5,356 foot (1,633m) Volcán Arenal, a typically cone-shaped volcano despite being highly active, with some huge eruptions and larva flows that killed thousands of people in 1968. Although perpetually active the degree of activity is unpredictable, ranging from rumbling and ground shaking to a smouldering red glow best visible at night.
Sometimes visitors are treated to a fiery display of red-hot rocks being thrown into the air. The park has some good trails that go through forests, passing through the area that was flattened in the 1968 eruption, or across lava fields, but fences are in place to stop people from venturing too far up the dangerous slopes.
There is also a good chance of seeing some of the wildlife in the forest. The Visitor Centre has video displays of the volcano's more exciting activity. It is not possible to stay overnight in the park or visit it after dark unless on one of the night tours from Fortuna.
Address: Seven miles (12km) from Fortuna