Airlie Gardens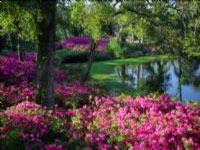 Established in 1901 and spanning 67 acres, these gardens by the sea comprise formal gardens, a butterfly garden, wildlife, historic structures, walking trails, sculptures, freshwater lakes and breathtaking views over Bradley Creek. Airlie Gardens are best known for their collection of over 1,000 azaleas, their countless cultivars of camellia and the Airlie Oak, the gardens' majestic centrepiece dating back to 1545. Airlie offers various events throughout the year, including kayak eco tours, oyster roasts and concerts.
Address: 300 Airlie Road
Website: www.airliegardens.org
Telephone: (910) 798 7700
Opening times: Daily 9am-5pm.
Admission: $8 adults, $2 children 3-6.