North Carolina Museum of Natural Sciences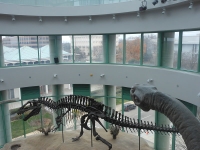 North Carolina Museum of Natural Sciences © Alexisrael
The North Carolina Museum of Natural Sciences has recreated a series of natural environments, complete with living animals and a 20-foot-high (6m) waterfall, through which visitors can walk and discover North Carolina's diverse geography, geology, flora, and fauna.
The museum is also home to Willo, a 66-million-year-old dinosaur skeleton, and the only one in the world with a fossilized heart. Other dinosaurs are also on display, as is one of the world's finest whale skeletons. The museum café serves tasty breakfasts and lunches.
While general admission is free, donations are welcome. Special exhibitions do have cover charges.
Website: www.naturalsciences.org