La Vanille Reserve des Mascareigne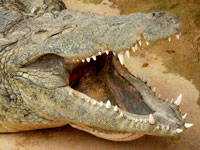 La Vanille Reserve des Mascareigne is a nature reserve in the unspoilt south of Mauritius, best known for its thousands of crocodiles and giant tortoises, which they are helping re-introduce to the island of Rodrigues. Reptiles in the park include Nile crocodiles, iguanas, caimans, geckos, chameleons and tortoises, and there are also monkeys, bats, mongooses, wild boars and some domestic farm animals for children to meet. The park boasts a huge population of butterflies and an insectarium as well. Many of the animals are kept in enclosures and cages making it more of a zoo than a nature reserve, but the animals seem well cared for and the breeding programmes are for conservation purposes. The highlight of the park is the enormous tortoises which roam freely and which kids can ride and hand feed. The vegetation in the park is lush and there is some interesting flora to investigate, and plenty of shade. Guides are available to show visitors around and give information on the various animals. There is a children's playground area, a shop selling souvenirs including crocodile skin products, and a restaurant which serves crocodile steak, among other things. La Vanille Reserve des Mascareigne is a wonderful attraction for families visiting Mauritius.
Address: Riviere des Anguilles
E-mail: crocpark@intnet.mu
Website: www.lavanille-reserve.com/index.php/en/
Telephone: 626 2503
Opening times: Open daily 9:30am to 5pm. Crocodile feedings at 11am.
Admission: Rs 270 (adults); Rs 150 (children) on weekdays. Rs185 (adults); Rs 80 (children) on weekends.