La Vanille Reserve des Mascareigne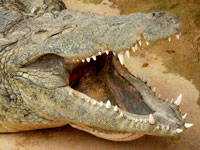 La Vanille Reserve des Mascareigne is nature reserve best known for its thousands of crocodiles and the giant tortoises, which they are helping re-introduce to the island of Rodrigues. Children can sit on the giant tortoises and watch the crocodiles being fed. The shop sells crocodile skin products, and the restaurant serves crocodile steak.
Address: Riviere des Anguilles
E-mail: crocpark@intnet.mu
Website: www.lavanille-reserve.com/eng/
Telephone: 626 2503
Opening times: Open daily 9:30am–5pm. Crocodile feedings at 11am.
Admission: Rs 270 (adults); Rs 150 (children) on weekdays. Rs185 (adults); Rs 80 (children) on weekends.