Mljet Island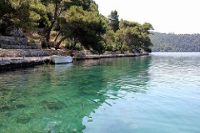 Mljet Island © Jose Miguel
Covered by small villages, forests, and vineyards, Mljet is famous for its national park on the western half of the island. Main attractions include the two saltwater lakes of Veliko Jezero (Great Lake) and Malo Jezero (Small Lake), as well as a 12th-century Benedictine monastery.
The lakes are popular spots for swimming and the beauty of this unspoilt oasis attracts nature lovers and those in search of peace and tranquillity. Mljet is said to be Croatia's greenest island while in Greek mythology it allegedly captivated the legendary hero Odysseus for seven years.
Mljet is popular with couples because the lack of crowds and pristine natural beauty, making it ideal for romantic getaways. It is also a great option for those who enjoy outdoor activities like hiking, swimming, mountain biking, hunting, fishing and kayaking. There are of accommodation options on the island and a variety of great places to eat. Mljet could easily keep an outdoor enthusaist suitably occupied for an entire holiday.
Website: www.mljet.hr