Tortuguero National Park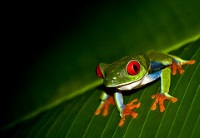 Tortuguero © Javier Sales
Despite its isolation on the northern part of the Caribbean coast, Tortuguero National Park is an extremely popular destination and one of the most important nesting sites of the green sea turtle, which lays its eggs here between July and October each year. Three other turtle species also use the beach as a nesting ground, namely the giant leatherback, hawksbill and loggerhead turtles.
The park covers an area of over 120 square miles (189 sq km), protecting not only the turtle beach, but also wetlands, swamps, forests and one of the most developed reefs in the country. Nature trails in the park offer opportunities for wildlife viewing and birding and a network of waterways serves as an alternative method of transportation and exploration.
Approximately 50 percent of Costa Rica's bird and reptile species are found in the park along with a diversity of flora and fauna, including endangered mammals like the jaguar, sloth, tapir and manatee. Most visitors come to watch the spectacular sight of thousands of marine turtles laying their eggs or to observe the hatching.
Guided tours are recommended to control the amount of disturbance caused by the increasing numbers of tourists, and guides provide a wealth of information about the area. Beaches are beautiful but not suitable for swimming as the surf is rough and sharks are present. The area also receives a large amount of rain and insect repellent is necessary to keep the mosquitoes at bay.
Website: www.acto.go.cr