Elafiti Islands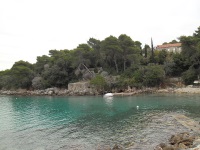 Kolocep © August Dominus
A popular excursion from Dubrovnik is a day trip to the offshore islands of Kolocep, Lopud, and Sipan, which are part of a larger archipelago northwest of Dubrovnik. They are the only inhabited islands in the group and the most popular for visitors.
The islands are an escape from the mainland crowds and boast olive groves and orchards, sand and pebble beaches, 15th-century summer residences, and several interesting churches and monasteries.
Kolocep is the smallest and closest island to Dubrovnik, and it is beautifully covered in green vegetation. Lopud is the most visited and is famed for the stretch of sandy beach at Sunj. Sipan used to be the summer getaway of choice for aristocratic families in Dubrovnik and is fascinating from an historical point of view.
Each of the islands has something unique to offer visitors and it is worth investigating them all if time allows. Kolocep and Lopud are both car-free islands but they are tiny and easy to get around on foot. You can choose to stay on one of these charming islands and accommodation here is generally less expensive than in Dubrovnik.