Trogir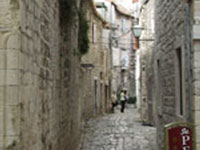 Trogir old town © Judith Duk
Trakoscan is a legendary 13th-century Gothic castle that was home to various influential families for centuries before finally falling into abandoned disrepair in the second half of the 18th century, when it belonged to the Draskovic family.
In the 1950s, the castle was taken over by the state and turned into a living museum, reconstructing life in a medieval castle. Visitors can explore four levels, including the dungeon, and finish their tour with a stroll through the surrounding parklands.
Trakoscan Castle is a spectacular journey for the imagination as it feels so authentic. Guests can wander with freedom through the stone corridors, up and down the winding staircases, and into the various rooms. It is also a great attraction for the younger children as the castle, lake, and forest settings transport the little ones to a fairytale world.
The castle features original artefacts from its history, including furniture and weaponry, and displays are informative and well laid out. As wandering through the castle and its beautiful grounds can be somewhat tiring, visitors often stop for a break at the restaurant by the lake.