Brac Island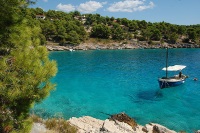 Brac Island © Zuffe
Brac's main claim to fame is the strip of beach near the resort of Bol that stretches out like a finger into the sea, featuring on almost all Croatian tourist brochures. Brac is the largest of the central Dalmatian group of islands and its major agricultural products are wine, olive oil, and fruit. The island is also known for its exported white stone, which was even used to build Washington DC's White House.
Bol and Supetar are the two main resorts on Brac, with attractive old towns and a laidback charm. Bol is the windsurfing capital of Croatia, and Brac is a great destination for a number of watersports. The rest of the island boasts numerous villages and dramatic coastal scenery.
Like much of Croatia, the beaches on Brac Island are mainly rocky, boasting stunningly clear blue water and calm seas. If you are desperate to find a sandy beach head down to Lovrecina, which has its own beach bar and restaurant and is a lovely spot to spend the day. Brac is generally less crowded than Split and other popular areas on Croatia's mainland, but can get very busy during the peak summer months.
Website: www.bracinfo.com