Plitvice Lakes National Park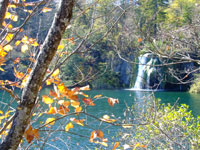 Plitvice Lakes National Park © Judith Duk
The Plitvice Lakes have been declared a UNESCO World Heritage Site and the national park that encloses them is the oldest in Southeast Europe. It is the natural beauty of the 16 green and turquoise lakes, linked by waterfalls and surrounded by forests, attracts thousands of visitors every year.
Wooden walkways meander over, around and across the magical watery setting that was formed by mineral deposits in the water creating travertine barriers within the constantly changing limestone landscape.
The lakes are divided into lower and upper lakes and trails are well marked. Visitors can cover the 11 miles (18km) of walkways on foot, but the park entry ticket also includes the use of buses and ferries that cover certain sections.
The incredible lakes are not all the park has to offer; it is a heavily forested area with an extremely diverse variety of flora and fauna, including rare European species like the brown bear and wolf. It is one of the last regions in Europe in which these two species can be found living in the wild.
Website: www.np-plitvicka-jezera.hr/en