Christuskirche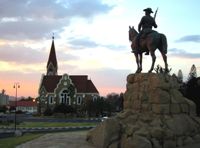 Christuskirche © Roger Zenner
The church is a prominent landmark in Windhoek's historic centre that was built in 1910 to accommodate the Lutheran congregation in the city. Today, topped by its 79-foot (24m) spire, the sandstone church is a national monument. Its gothic revival facade, made unique by Art Nouveau elements, is made up of quartz sandstone, while the portal and altar are Italian marble. Three bronze bells in the tower bear the inscriptions "Ehre sei Gott in der Höhe" (Glory to God in the highest), "Friede auf Erden" (Peace on Earth), and "Den Menschen ein Wohlgefallen" (Goodwill towards men). An interesting fact about the church is that the stained glass windows, a gift from Emperor Wilhelm II, were installed backwards until the late 1990s when a tourist noticed the error.
The church is unique and a delight to explore for those with an interest in architecture. The Parliamentary Gardens, wonderful for a stroll and a picnic, are just around the corner from the church, and the two attractions are best combined; there is also a small craft market nearby. The Christuskirche is an active place of worship with regular services open to the public, and is a popular venue for weddings.
Address: Corner of Fidel Castro Str and Robert Mugabe Ave
Opening times: Monday to Friday 7:30am-2:30pm.